The fourth day of the Group H Champions League is coming and the Old Lady will certainly not be caught.  Juventus Lyon ,
There is a prize confirmation of the head of the rankings for the men of Allegr i, since the Seville (currently first with Juventus to 7 points, will face at home the Dinamo Zagreb ). Juventus Lyon , two weeks ago decided a magic Cuadrado , but also several super saves from Buffon, including penalty save. At the Stadium will surely be a spectacular game because there is already loaded environment a thousand after the victory in the championship match against Napoli decided by former Higuain . The Juventus confirmed the first place in the standings, 27 points are now, + 4 on the Roma , + 5 on Milanand + 7 from Naples . 
The Lyon currently in Group H is located on three points, now almost out of contention for the second round. Juventus Lyon , a win for the home side would move to + 7 right by the French and to win so mathematically qualified for the next round.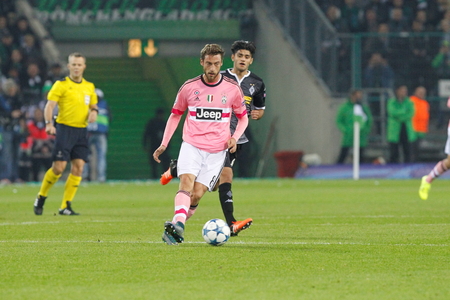 The team Genesio comes with high morale in this match after the victory by 2 to 1 obtained against Toulouse and is eighth in the struggle for a place in the Europa League. 
Allegri will not available for this game the injured Asamoah , Pjaca, Chiellini and Mandragora .Especially Chiellini has a distractive trauma of First Instance to the posterior region of the right thigh that will force him to three-week break. Allegri should deploy in its place Benatia . So off to 3-5-2 with Buffon in goal,   Benatia Barzagli Bonucci , Marchisio Khedira Pjanic Alves andAlex Sandro in midfield, Higuain and Mandzukic up front.  Genesio will use the mirror module to Juventus. Lopes in goal, defense composed by  Rafael Yanga Mbiwa and Nkoulou , in midfieldDiakhaby Morel Darder Gonalons and Tolisso , forward  Lacazette and Fekir.
PROBABLE FORMATIONS JUVENTUS LYON

JUVENTUS (3-5-2): Buffon; Benatia Barzagli Bonucci; Alves Pjanic Marchisio Khedira Alex Sandro; Higuain Mandzukic. Coach: Allegri
LYON (3-5-2) : Lopes; Rafael Yanga Mbiwa Nkoulou; Diakhaby Morel Darder GonalonsTolisso; Lacazette, Fekir. Coach: Genesio
UNDER 2.5 , this is our our prediction for Juventus Lyon .
A Under 2.5 2.17 quoted by 1xbet , the highest market share. Do not miss bonuses and rewards that offers the well-known bookmaker.
This is the explanation of our prediction:
- There are five goals scored so far in the Champions League by Juventus (less than 2 per game);
- The defenses of the two teams are very hermetic: zero those suffered by Juventus, two conceded by Lyon ;
- The Juventus in the last 20 games played he scored more than two goals in only six occasions;
- A Juventus attack that has scored more than two goals in the Champions League only on one occasion out of ten home games;
- In the last three meetings between the two teams on two occasions under the 2.5 he came out

 Statistics and rankings can be found here:  Statistics Juve - Lyon