The Sarri team starts from Turkey. Besiktas Naples, fourth day of the Champions League round:
The Neapolitans seek redemption after the unexpected defeat matured at the San Paolo. Besiktas Napoli, decisive challenge not to be missed: it is giving away the first place in the group, the two teams are separated by only two points. Napoli topped the standings with 6 points, Turks chasing 5. Besiktas Naples, we analyze now what the small team in this delicate game. Napoli comes after the defeat by 2 to 1 gained against Juventus in the Scudetto challenge. A knockout came at the end of a good game played and pulled up at the end. Despite the many absences Napoli has proven to be, with a little more luck the parties could be different. Besiktas has instead drew 1-1 on the field of Genclerbirligi once again confirming the good form: the Turks by two and a half months are unleashing important performance supported by excellent results.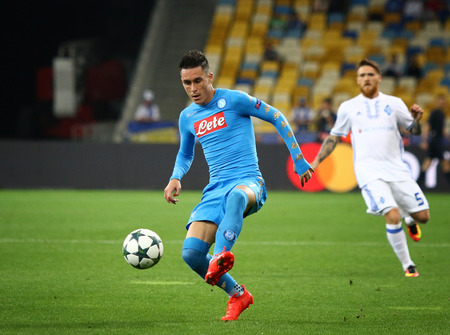 Besiktas Naples, we analyze now what might be the probable line-ups for both teams. The Neapolitans should rely on the tried and tested 4-3-3. There will not be injured Milik and Albiol. Reina in goal, defense Hysaj, Maksimovic, Koulibaly and Ghoulam, in midfield Zielinski, Jorginho and Hamsik in attack Callejon Gabbiadini Insigne. Martens, little positive with Juventus, should start on the bench. Gunes likely will rely on 4-2-3-1: Aboubakar as a lone striker. There will be many absences for the Turkish team: from Rhodolfo to Erkin passing Uysal, Talisca and Özbiliz. So Fabriz in goal, Beck, Marcelo, Tošić and Adriano in defense, Arslan and Hutchinson midfield hinge, Quaresma, Ozyakup and Frei in support of 'lone striker Aboubakar.
PROBABLE FORMATIONS BESIKATS NAPOLI

BESIKTAS (4-2-3-1): Fabri; Beck, Marcelo, Tošić, Adriano; Arslan, Hutchinson; Quaresma, Ozyakup, Frei; Aboubakar. In panchina: Zengin, Yuvakuran, Rodolpho, Nukan, Gonul, Sahan, Tosun. Coach: Gunes.
NAPOLI (4-3-3): Reina; Hysaj, Maksimovic, Koulibaly, Ghoulam; Zielinski, Jorginho, Hamsik; Callejon, Gabbiadini, L. Insigne. In panchina: Sepe, Rafael, Maggio, Chiriches, Strinic, Allan, Diawara, Giaccherini, Rog, R. Insigne, Mertens. Coach: Sarri
GOL YES, this is the prediction suggestion for Besiktas Naples.
A GOAL IS 1.68 paid by 1xbet . The bookmakers also offers bonuses and rewards not to be missed. Here is the explanation of our prediction:
1) The defense of Besiktas and Napoli do not seem so airtight: in these three days of Champions League proved it;
2) The two teams in the competitions Champions League have always scored. At least two networks the Naples , always in goal even the Turks;
3) At least one goal was quickly in the first three days of the Champions League by Besiktas and Naples ;
4) In the last 5 races were as many as 9 goals conceded by the team Sarri ;
5) Despite the absence of Milik the Naples he has scored 8 goals in their last 5 games in league and Champions League ;
6) In the last 13 games the Besiktas scored in 9 occasions;
7) Back Gabbiadini after the two-match ban in the league: Sarri expects a lot from him and the player will try not to disappoint even the ransom

 Statistics and rankings can be found here:  Statistics Besiktas - Naples