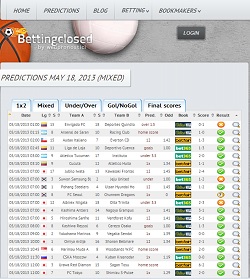 They ended the major leagues and we want to give you a brief summary of the new features and future innovations.
Reporting news:
In this season we have introduced for each match the prediction on the final correct score.
One of the biggest news introduced in this end of the season are certainly the bet types under 3.5 goals , over 1.5 goals, home score ( score at least one goal the home team), away score (score at least one goal the visiting team). These types of bets have been introduced in the mixed section.

We have made continuous improvements to the calculation of the tips to increase the accuracy of predictions, in particular in the mixed section thanks to the new types of bets, we has exceeded the 80% of correct predictions, one of the highest on the market also in view of the big number of matches where we provide predictions.

During the season we have added the predictions for many new leagues including also minor leagues with their cups. We now provide predictions of about 200 leagues!
And now we come to the next news:
Statistics and standings: Unfortunately, due to a problem with the source from where take the match results, standings and statistics in some cases were not very update and / or accurate in particular in the minor leagues. This summer, this problem will be solved permanently. We will also be introduced additional statistics to give you more and more information for close your bets.
Android and iphone Application: These were supposed to see the light in April, unfortunately, for a variety of circumstances beyond our control have been badly delayed, however we can confirm that the development continues even though at present we can not give an exact launch date
Livescore: by summer will be launched a livescore service by webpronostici
Software windows betting / prediction: We are in an advanced phase of the development of a innovative software that will integrate the site to always have handy tips and anything else you need for the realization of your bets wherever you are.
Please write advice / comments or suggestions to make more and more unique bettingclosed
The Editors