Russia Slovakia, decisive game for the future of these two national Europeans.:
Russia Slovakia, Slutsky's team is fresh from lucky draw debut against England, a point incredibly won the last minute against Vardy and companions in a match where the British would have deserved to win. Unfortunate Slovakia beaten in the final by 2 to 1 by Wales against Russia in the event of another defeat national captained by Hamsik would be eliminated by the Europeans. No distractions and missteps are allowed.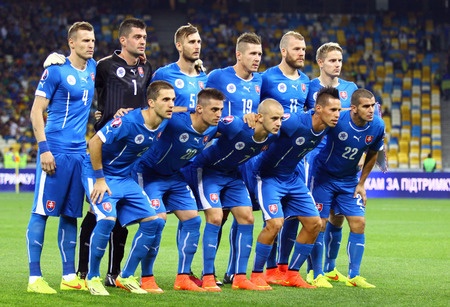 Russia, despite the grabbed point against England, has revealed significant technical limitations, but can not lose ground against a direct rival for qualification to the next round. Russia Slovakia, promises to be a race to follow all of the huge stakes. Slutsky should rely on a 4-2-3-1 with Akinfeev in goal, defense consists Shchennikov, Berezutski, Ignashevich, Smolnikov, Neustadter, Golovin in midfield, in attack the Smolov trio, Shatov, Kokorin behind Dzyuba. Slovakia in the field most likely with the same form of the Russians. Kozakic in goal, Svento, Durica, Skrtel, Pekarik in defense, in midfield Pecovsky, Kucka, Nemec lone striker supported by Weiss, Hamsik and Mak.
PROBABLE LINE-UPS RUSSIA - SLOVAKIA:
RUSSIA (4-2-3-1): Akinfeev; Shchennikov Berezutski Ignashevich Smolnikov; Neustadter Golovin; Smolov Shatov Kokorin; Dzyuba. Coach: Slutsky
SLOVAKIA (4-2-3-1): Kozacik; Svento Durica Skrtel Pekarik; Pecovsky Kucka; Weiss Hamsik Mak; Nemec. Coach: Kozak
The prediction recommended by our editorial team for this match is more than two second-half goals.
The recommended bookmaker is 888 Sport with the odd to 2.10. To watch the bonuses that the well-known bookmaker offers to all bettors. Here is the explanation in detail our prediction. view of the high stakes for grabs this could lead to a very close game and tactics in the first half, while in the second half the two teams could be extended to look for the best possible result, but this would force the defense to play very high risk of uncovering. Both Russia and Slovakia in the opening match were scored in the second half. Russia will not be available to several key players of the caliber of Zhirkov, Denisov and Dzagoev: the formation of Slutsky could accuse these absences from the personality standpoint and play in this important race. Against Russia Slovakia will have five players cautioned: this could force Hamsik and companions to a game with a few tactical fouls also allowing their opponents to enter more easily in the penalty area. Despite the defeat against Wales in Slovakia he has played a good game Hamsik, but to review the provision of Kozacik between the posts appeared unsafe in the opening match.
Statistics and standings can be found here: Statistics and predictions Russia - Slovakia